We offer a wide arrange of sheeting solutions from simple dead-knife (single rotary) sheeters, duplex sheeters, compact synchro-fly and full synchro-fly sheeting solutions.  Whether you are processing one web or multi webs at one time, we have the solution for you.  Designed for excellence in precision paper cutting worldwide, our sheeting solutions provide you with accuracy in cuts required by any conversion or finishing process.  Our sheeting technologies are a flexible sheeting solution that are easy to setup, easy to operate, and provides competitive production capabilities at a fraction of the costs of other sheeter manufacturers.  With over 1500 sheeters installed worldwide, our solutions are a robust, reliable and cost effective with easy operational interface technologies that will provide effective sheeting with the highest accuracy.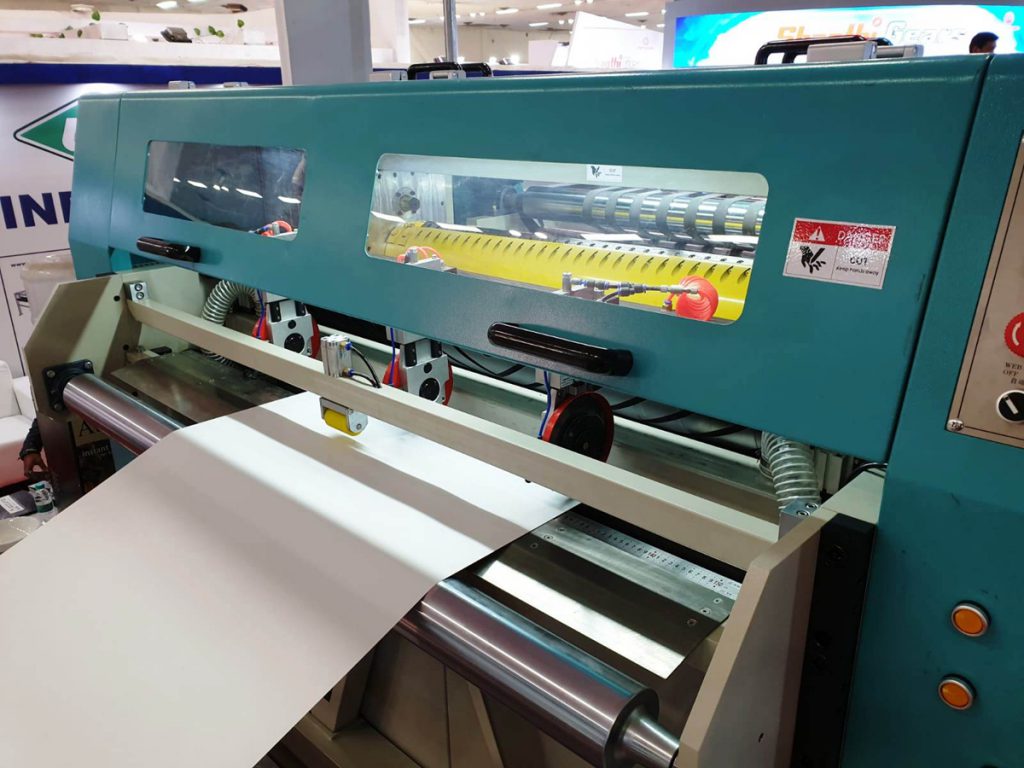 Designed for excellence in precision paper cutting, our slitting and winding solutions provide you with accuracy in cuts and roll alignment required by any conversion or finishing business that relies of quality converting equipment.  The slitting system contains standard Dines knife holders which are located on an adjustable slide independently driven.  The slit stations are easily reset for desired slit.  The winding station is designed to provide solid and aligned finished rolls up to 1500mm (59") diameter and is produced with shaftless core holding and controlled pneumaticallyEvery solution is designed, manufactured and delivered with your quality goals in mind ready to take on any process run you throw at it.  Designed with production in mind, our slitter and winding solutions are easy to setup and easy to operate compared to expensive alternatives that produce similar results at best.
We offer a vast array of packaging solutions, from auto/semi-auto roll wrapping, semi-auto strapping machines, auto strapping machines, pallet wrapping machines, pallet strapping machines, carton sealers, strapping tools, to packaging consumable.  With extensive manufacturing experience of packaging machinery and material handling for over 38 years, we have built a solid reputation to our customers in over 60 countries.  From the simplest strapping materials to the most demanding system solutions, our integral approach covers all your packaging requirements.  As a market leader in the packaging industry, our technologies are continuously giving our customers the best packing machines. We develop key products in end of line packaging, from in-line packaging system to full comprehensive packaging solutions.  Our comprehensive range of products provide efficient one-stop service to fulfill all our customers' needs.
Our company has high criteria for both cutting technique and technology.  We also have highly efficient R and D team innovate our current machines all year round.  We also have a wide variety of machines with any possible cutting sizes to meet customers' needs.  All the machines are the construction of high strength casting, and have guaranty of accuracy in the process of cutting, and steady movement.  In order to provide the best quality machines to our customers, all of our machines are achieved European Confromity (CE).
As are leading Exercise Notebook Making, Paper Converting & Packaging Machinery manufacturer, we provide a diverse line of of solutions with a global presence in over 260 locations in 70+ countries worldwide.  Fully Automatic Exercise Book Machine consist of shaft less reel unwinding stand, 2 color printing tower, cross cutting unit, sheet overlapping unit, sheet counting and collating unit, one inserter for pre-printed index sheets, one inserter for pre-printed title covers, wire stitching unit, folding unit, mechanical square back pressing unit, book front cutting unit, book separating cutting unit, book flipping & title design mixing delivery table, waste removal suction blower, lubrication system and centralized control panel (PLC).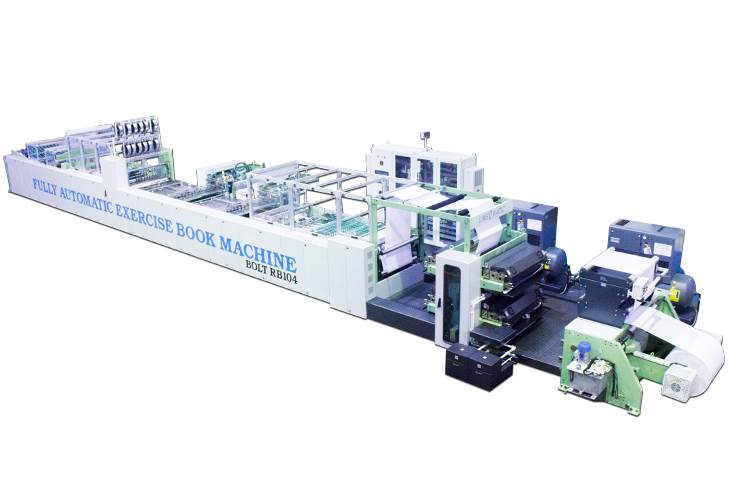 Splice Detection & Inspection
All of our splice detection systems are well proven for the detection of splices in single and/or multiple web material processes.  They do not require re-calibration for changes in grade, # of webs, color of splice material, color or web material or process speed.   Our solutions provide standard 10 ms, 5, 12, 15 or 24 VDC pulse outputs or a dry contact rating of 110VAC, 3 amps, non-inductive capacity that is closed for one second on detection of a splice.  Our splice detection technologies can be tied directly into the process equipment for which it is installed on and can be installed at any angle provided the material is running parallel through the device.
Reel to Sheet Ruling Flexo Printing
The Automatic Reel to Sheet Ruling/Flexo Printing Machine consist of shaft based reel stand, 3 color printing tower and pile delivery station. It is suitable to rule or flexo printing on paper in 3 colors. The machine delivers ruled/flexo printed sheets in cut length as per the requirement direct from paper reel.  Our solutions comes with add on's such as an air shaft, smart mark technology, tagger, center slitting, micro-perforation capability, and automatic ink circulation.  This provides for lower production costs, minimal manpower requirements, consistent performance, longer life while facilitating excellent quality output with easy to operate functions with dramatically low maintenance costs.
Drying Cylinder & Mill Rolls
We now offer Dryer Cylinders and Paper Mill Rolls manufactured by King Hardware.  With decades of experience with a strong customer base in Africa, America, Asia and Europe, we produce hundreds of PED and ASME coded rolls per annum.  With over 10,000 tons of production each year, we deliver the highest quality products at competitive prices as compared to European and Domestic manufacturers.  With short lead times, we are an excellent choice as your cylinder and roll supplier.  In  addition to Dryer Cylinder, our product lines include Former Cylinder, King-sized Calendar Rolls, Press Rolls, Mill Rolls, Felt Rolls and Suction Couch Rolls.
Used/Refurbished Equipment
Your budget does not allow for the purchase or new technology, don't worry.  We can locate and provide you with used or refurbished equipment in any industry.  Just provide your specifications to us and we will locate and quote a solution that will meet your requirements.